South Side Community Art Center Archives
Finding Aid: South Side Community Art Center Archives
Repository: The South Side Community Art Center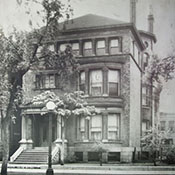 South Side Community Art Center ArchivesHoused in a historic brownstone on South Michigan Avenue, the South Side Community Art Center was founded in 1940 under the auspices of the WPA Federal Art Project. It is one of the only surviving community art centers of the 110 founded under the FAP, and it was the first founded in an African American community.
Though the community art centers were subsidized by federal dollars, the South Side Community Art Center only opened as the result of years of rigorous organizing and fundraising by members of the local community, led by businessman Golden B. Darby. The Center's opening exhibit in December 1940 featured local artists who would become the guiding lights of mid-century African American visual art, including Henry Avery, William Carter, Charles White, Archibald Motley, Jr., Joseph Kersey, Margaret Burroughs (then Margaret Goss), Bernard Goss, and William McBride. In May 1941, First Lady Eleanor Roosevelt attended a special dedication ceremony for the Center.
The Archives of the South Side Community Art Center include meeting minutes from the center's founding to the present day, as well as documents, ephemera, and photographs detailing exhibitions and other events, including the famous Artists and Models Balls.
Selected Artifacts