For information about the South Side Community Art Center, visit their website.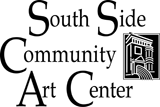 Guide to the Archives of the South Side Community Art Center, 1938-2008
Processed by Angela Bacon, Melissa Barton, Mollie Godfrey, Rachel Watson, September 2009.
Descriptive Summary

Title:

Archives of the South Side Community Art Center

Dates:

1938-2008

Size:

75 linear feet

Repository:

South Side Community Art Center
3831 South Michigan Avenue
Chicago, Illinois 60653

Note on the Provenance
Property of the South Side Community Art Center with the following exceptions: Diane Dinkins-Carr files: Gift of Diane Dinkins-Carr, 2008. Lawrence Kennon files: Gift of Lawrence Kennon, 2008. Ulrich Middledorf files: Gift of University of Chicago, 1968. Pauline Kigh Reed files: Gift of Pauline Kigh Reed, 1988. Photocopy of "The South Side Community Art Center 50th Anniversary" courtesy of the Vivian G. Harsh Research Collection.
Access
Archives are open by appointment only. Please call 773-373-1026. Some items are too fragile to handle and have been replaced with a suitable researcher copy.
Citation
When quoting material from this collection the preferred citation is:
Archives of the South Side Community Art Center, [Box #, Folder # (if applicable)]
Organizational History
The South Side Community Art Center opened in 1940 and is one of the only surviving community art centers founded through New Deal's Federal Art Project between 1937 and 1942. Four arts projects were established under the auspices of the Works Progress Administration (later renamed the Work Projects Administration) of the New Deal. The Federal Art Project offered funding to artists and arts administrators for a variety of projects, most notably the creation of public murals and the institution of 110 community art centers throughout the United States. These art centers would hold classes and exhibit original art work to communities that were perceived as "culturally deprived." Only handful of FAP art centers were opened in African American communities, in New York, Florida, and Chicago.
Efforts to open a community art center on Chicago's South Side began in 1938. Peter Pollack, a Federal Art Project official, contacted Metz Lochard, an editor at the Chicago Defender, about having the Art Project sponsor exhibitions of African American artists, who often had trouble securing space to display their work. Pollack, an art dealer, owned a gallery on Michigan Avenue in Chicago's Loop and had previously displayed the work of African American artists. Lochard arranged a meeting between Pollack and Pauline Kigh Reed, a social worker with extensive connections in the community, and, according to Reed's recollection, she suggested founding an art center. Reed helped arrange an initial meeting with area artists at the South Side Settlement House at 32nd Street and Wabash Avenue. Businessman Golden Darby, chairman of the board of the Settlement House, became chair of the Sponsoring Committee of the proposed South Side Community Art Center.
Darby chaired the first official meeting of the Sponsoring Committee on October 25, 1938 at the offices of the Chicago Urban League. In addition to Darby, Pollack, and other organizers of the Sponsoring Committee, the meeting was attended by members of the Arts Crafts Guild, a group of Chicago-based African American artists organized in 1932 which included Margaret Taylor (Burroughs), Eldzier Cortor, Bernard Goss, Charles White, William Carter, Joseph Kersey, and Archibald Motley, Jr. George G. Thorpe, the State Director of the Federal Art Project of Illinois, informed the group that the FAP's community art center program would provide an administrative staff, faculty, and renovation funds for a center if the community could raise funds for the purchase of a building and the costs of utilities and supplies.
The following year was spent organizing and raising funds for the center, with efforts ranging from membership drives and street corner collections (including Margaret Burroughs's famous "Mile of Dimes" on South Parkway, now Martin Luther King Drive) to benefit parties and lectures by such luminaries as Augusta Savage. The most successful of these events, the Artists' and Models' Ball held at the Savoy Ballroom on October 23, 1939, became an annual tradition.
In late May 1940, the group purchased a vacant brownstone on South Michigan Avenue for about $8,000. Built in 1892 by George A. Seaverns, Jr., the building had been designed by Gustav Hallberg. (Though the building is sometimes referred to as the Comiskey Mansion, the house belonging to the former White Sox owner was actually further south on Michigan Avenue.) The Federal Art Project hired Hin Bredendieck and Nathan Lerner from the New Bauhaus School of Design to renovate the deteriorating building.
The South Side Community Art Center opened its doors on December 15, 1940 with an exhibition of paintings that had been displayed at the American Negro Exposition held in Chicago earlier that year, including works by Henry Avery, William Carter, Charles White, Archibald Motely, Jr., Joseph Kersey, Margaret Taylor Goss (Burroughs), Bernard Goss, and William McBride. On May 7, 1941, First Lady Eleanor Roosevelt officially dedicated the Center in an extravagant ceremony broadcast nationwide on CBS radio. Professor and cultural historian Alain Locke was on hand to introduce the First Lady, and Bessie Smith and Ethel Waters also attended the party. The exhibition, entitled We Too Look at America, included pieces from the inaugural exhibition as well as works of white painters Gertrude Abercrombie, Margaret Brundage, Emil Armen, Si Gordon, Julia Thecla, and Sophie G. Wessel.
In its early years the Center was a hive of activity, as well as a who's who of the Chicago Renaissance. In addition to exhibitions that changed as often as biweekly, art classes were taught by George Neal, Charles Sebree, Katherine Bell, and Joseph Kersey. Inez Cunningham Stark, the editor of Poetry magazine, taught a poetry class whose students included Gwendolyn Brooks, Henry Blakeley, Margaret Danner, and Robert Davis. A regular writers' forum was attended by Brooks, Richard Wright, and Willard Motley. On weekends, Nat "King" Cole played jazz. Photographer Gordon Parks, then employed by the Farm Securities Administration, kept a studio at the Center.
Federal spending on WPA projects was cut dramatically upon the country's entry into World War II, and in 1943 all federal funding for the arts projects ended. But fundraising at the Center enabled it to remain active. In 1944, artist Rex Gorleigh became administrative director, and under his leadership the Center exhibited the works of Hughie Lee-Smith, Augusta Savage, Ellis Wilson, and John Biggers.
The escalation of the Red Scare curbed activity at the Center, as the executive board restricted artists from meeting at the Center in order to avoid suspicion. By the early 1960s, with the Center barely functioning, board members led by Wilhelmina Blanks, Fern Gayden, and Grace Thompson Leaming, along with young artists Sylvester Britton and Ramon Price, collaborated to keep the Center open, taking out a mortgage and instituting a new fundraising tradition: an annual art auction. The Center remains open today, offering classes and exhibiting new and local artists.
Sources
Burroughs, Margaret, ed. The South Side Community Art Center 50th Anniversary, 1991.
Harris, Jonathan. Federal Art and National Culture: the Politics of Identity in New Deal America. Cambridge: Cambridge University Press, 1995.
Mullen, Bill V. Popular Fronts: Chicago and African-American Cultural Politics, 1935-1946. Urbana: University of Illinois Press, 1999.
Tyler, Anna M. "Planting and Maintaining a Perennial Garden: Chicago's South Side Community Art Center." International Review of African American Art 11.4 (1994): 31-37.
Scope and Content
The Archives of the South Side Community Art Center document activities at the Center from the first meetings of the Sponsoring Committee in 1938 to the present day. Records were kept intermittently and in different arrangements throughout the Center's history. The collection has been divided into three superseries: Part I comprises documents detailing the Center's history from 1938 to 1970; Part II comprises documents preserved and donated by individual board members; Part III, the largest portion of the collection, includes documents from after 1970. Because they deal in the period of the Center's history that bear the highest interest for researchers, Parts I and II have been arranged and described on the folder level. Part III has been arranged into series and is described on the level of subseries, but not on the folder level.
Part I (1938-1970) includes meeting minutes, correspondence, and some event ephemera from the first Sponsoring Committee meeting on October 25, 1938 to 1970. Items in this section have been arranged chronologically without regard to document type or function; this arrangement preserves the order in which the documents were found and reflects the centralized structure of the Center's management in its early years. Of particular interest are the minutes of meetings leading to the Center's founding, 1938- 1939, and the correspondence of director Rex Gorleigh, 1945-1946.
Part II (1938-2008) includes files maintained by the following current and former members of the Center's Board of Directors: Diane Dinkins-Carr, daughter of artist Fitzhugh Dinkins and current Board President; Fern Gayden, a social worker who served as Board President in the 1960s; Pauline Kigh Reed, a founding board member; Ulrich Middledorf, chair of the Art Department at University of Chicago and founding board member; Douglas Williams, an artist and board member in the 1960s; and Lawrence Kennon, current board member. Two reminiscences of the Art Center by Margaret Burroughs, founder of the DuSable Museum and original board member, are also filed here, including a photocopy of the booklet The South Side Community Art Center 50th Anniversary from the Vivian G. Harsh Collection. Researchers investigating the first two decades of the Center's history will be particularly interested in the following files: Diane Carr, which include photographs of the Center's dedication ceremony and a program from the first Artists and Models Ball in 1939; Pauline Reed, which include correspondence from the run-up to the Center's opening; Fern Gayden, which include the program from the original exhibition of paintings; and Ulrich Middledorf, which include annual reports from the Center's earliest years. The papers of Douglas Williams have little to do with the Center's history, but they contain documents from Hyde Park High School. The papers of Lawrence Kennon document the Center's more recent history, from 1980 to the present.
Part III (1970-2008) has been divided into the following series: Administrative, Events and Publicity, Financial, Fundraising, Programs, Research, Media, Oversize, and Photographs.
The Administrative series (1972-2008) is divided into the following subseries: Artists includes artist information files and consignment agreements; Board of Directors includes meeting minutes, reports and correspondence; Constitution includes copies of the Center's constitution; Employees includes time sheets, job descriptions, and contracts; Executive Director includes correspondence, notes, and documents dealing with the Center's daily operations; Insurance includes the Center's insurance policies; Members includes member correspondence, member lists, and member addresses; Physical Plant includes documents relating to maintenance of Center property.
The Events and Publicity series (1970-2008) includes planning documents, press releases, and ephemera from Center events, and is divided into the following subseries: Auctions, Benefits, Exhibitions, Other SSCAC Events, and Non-SSCAC Events.
The Financial series (1980-2002; bulk 1980-1988) includes reports, receipts, checks, and account registers.
The Fundraising series (1980-1996; 2000; 2005) includes grant applications and correspondence with corporate donors.
The Programs series (1949-1985; 2005-2006) includes material from classes at the center as well as material from the following programs based at the Center: the Council of Arts, Sciences and Professions (CASP); the Comprehensive Employment and Training Act (CETA); the Mayor's Summer Youth Employment Program (MSYEP); and RAW magazine. The CASP documents, dating from 1949-1981, were found in the Center's vault; their provenance is unclear. The Center participated in two employment programs run by the Chicago Mayor's Office—CETA and MYSEP—from 1975 to 1985. RAW magazine was created by a group of Columbia College students from 2005 to 2006.
The Research series (1979-2000) contains miscellaneous clippings, serials, and subject files relating to specific artists, techniques, and the history of African American art more generally.
The Media series (2000-2008) includes a number of largely unidentified data discs.
The Photographs series (1938-2008; bulk 1970-2008) includes hundreds of photographs of center activities and artwork, as well as several photographs from the Center's early years.
INVENTORY
Part I: 1938-1970
Box 1
Folder 1
Clippings and Ephemera, 1938-1941
Box 1
Folder 2
Minutes, 1938
Box 1
Folder 3
Minutes and Correspondence, 1939
Box 1
Folder 4
Minutes, 1940
Box 1
Folder 5
Minutes, 1941
Box 1
Folder 6
Opening Exhibition Program (fragment), 1941
Box 1
Folder 7
Annual Report, 1944
Box 1
Folder 8
Board of Directors Correspondence, 1944-46
Box 1
Folder 9
Board of Directors Minutes, 1944-45
Box 1
Folder 10
Board of Directors Meeting, 1945
Box 1
Folder 11
Minutes, 1945
Box 1
Folder 12
Board of Directors Correspondence, 1945
Box 1
Folder 13
General Correspondence Received, 1945
Box 1
Folder 14
General Correspondence, Jan-Jun 1945
Box 1
Folder 15
Art Center Correspondence, 1945
Box 1
Folder 16
Finance Campaign, 1945
Box 1
Folder 17
Finance Campaign, 1945
Box 1
Folder 18
Ways and Means Committee, 1945
Box 1
Folder 19
Rex Gorleigh's Correspondence Received, 1945
Box 1
Folder 20
Rex Gorleigh's Correspondence Out, 1945
Box 1
Folder 21
Ball Correspondence, 1945
Box 1
Folder 22
Contracts, undated
Box 2
Folder 1
Volunteer Office Staff, 1945
Box 2
Folder 2
Activities, 1945
Box 2
Folder 3
Ball Committee, 1945
Box 2
Folder 4
Programs Committee, 1945-46
Box 2
Folder 5
Fundraising Letters, 1945-47
Box 2
Folder 6
Board of Directors Correspondence, 1945-1947
Box 2
Folder 7
Correspondence--General, 1946
Box 2
Folder 8
Gorleigh Correspondence Out, 1946
Box 2
Folder 9
Gorleigh Correspondence Received, 1946
Box 2
Folder 10
Director's Reports, 1946
Box 2
Folder 11
Artists and Models, 1946
Box 2
Folder 12
Art Center Activities, 1946
Box 2
Folder 13
Activities ca. 1946 ?
Box 2
Folder 14
Correspondence--Museums and Institutions, 1946
Box 2
Folder 15
Chicago Negro Chamber of Commerce, 1946
Box 2
Folder 16
Correspondence, 1946-47
Box 2
Folder 17
Special Meeting Board of Directors, 1946-1947
Box 2
Folder 18
Annual Report, 1946-1947
Box 2
Folder 19
Chicago Association of Commerce, undated
Box 2
Folder 20
Miscellaneous Correspondence, 1947-1970
Box 2
Folder 21
Financial Campaign, 1947
Box 2
Folder 22
Extension Activities, 1947
Box 2
Folder 23
Special Meeting Minutes, Oct. 21, 1947
Box 2
Folder 24
Activities, 1948
Box 2
Folder 25
Duplicate Letters, 1948
Box 2
Folder 26
Letters, July 1948
Box 3
Folder 1
Board of Directors, 1954
Box 3
Folder 2
David P. Ross, Jr. Correspondence, 1954
Box 3
Folder 3
David P. Ross, Jr. Correspondence, 1954 (2)
Box 3
Folder 4
Correspondence, 1954
Box 3
Folder 5
Board Committees and Lists, 1954
Box 3
Folder 6
Membership Committee, 1954
Box 3
Folder 7
Membership Committee, 1954 (2)
Box 3
Folder 8
School Committee, 1954
Box 3
Folder 9
Drama Group, 1954
Box 3
Folder 10
Tea, 1954
Box 3
Folder 11
Photography Class, ca. 1954
Box 3
Folder 12
Members / Board of Directors, 1955
Box 3
Folder 13
Board of Directors, 1955-1956
Box 3
Folder 14
Annual Election, 1956
Box 3
Folder 15
Membership Correspondence, 1956
Box 3
Folder 16
Members, 1956
Box 3
Folder 17
Carbon Copies (outgoing correspondence), 1956-57
Box 3
Folder 18
Maintenance Committee, 1956
Box 3
Folder 19
Wine Sip, 1956
Box 3
Folder 20
Board of Directors, 1957
Box 3
Folder 21
Meeting Minutes, 1957
Box 3
Folder 22
Correspondence, 1957
Box 3
Folder 23
Executive Committee, 1957
Box 3
Folder 24
Membership Committee, 1957
Box 4
Folder 1
Program Committee, 1957
Box 4
Folder 2
Program and Schools Committee, 1957
Box 4
Folder 3
Public Relations, 1957
Box 4
Folder 4
Report on De Paur's Gala, 1957
Box 4
Folder 5
Class Materials, 1957
Box 4
Folder 6
Administrative File, 1958
Box 4
Folder 7
Center Activities, 1958
Box 4
Folder 8
Events, 1961
Box 4
Folder 9
Activities, 1963
Box 4
Folder 10
Events, 1964
Box 4
Folder 11
Events, 1965
Box 4
Folder 12
Events, 1966
Box 4
Folder 13
Events, 1967
Box 4
Folder 13a
Black Heritage Exhibition, August 18, 1968
Box 4
Folder 14
Events, 1968-69
Box 4
Folder 15
Events, 1968-71
Box 4
Folder 16
Board of Directors, 1969
Box 4
Folder 17
Meeting Minutes, 1969
Box 4
Folder 18
Y.A.M. Benefit, 1969
Box 4
Folder 19
Y.A.M. Benefit, 1969 (2)
Box 4
Folder 20
Art Auction, 1969
Box 4
Folder 21
Marvin Young Exhibition, 1969
Box 4
Folder 22
Black Expressions Exhibition, 1969
Box 4
Folder 23
Activities and Events, 1969-71
Box 5
Folder 1
Board Meetings, 1970
Box 5
Folder 2
Annual Meeting, 1970
Box 5
Folder 3
President's Annual Report, 1970
Box 5
Folder 4
Activities and Events, 1970
Box 5
Folder 5
Art Auction, 1970
Box 5
Folder 6
Englewood Art Fair, 1970
Box 5
Folder 7
Members, 1970
Box 5
Folder 8
Announcements, 1971
Box 5
Folder 9
Events, 1971
Box 5
Folder 10
Rental Contracts, undated
Box 5
Folder 11
Forms and Form Letters, undated
Box 5
Folder 12
Job Descriptions, undated
Box 5
Folder 13
J.O. Price calligraphy class, undated
Box 5
Folder 14
Past Publicity, undated
Part II: Individual Board Member Files, 1938-2008
Box 6
Folder 1
Margaret Burroughs, "They Should Be Remembered," 1998
Box 6
Folder 2
Margaret Burroughs, et al., "South Side Community Art Center 50th Anniversary," 1991
Box 6
Folder 3
Diane Dinkins-Carr, 1939-2006 (see also: Oversize, Box 15, and Photographs, Box 16)
Box 6
Folder 4
Fern Gayden, Addresses, undated
Box 6
Folder 5
Fern Gayden, Artist Information, undated
Box 6
Folder 6
Fern Gayden, Bills and Receipts, 1960-64
Box 6
Folder 7
Fern Gayden, Board Meeting Minutes, Resolutions, and Constitution, 1961-63, undated
Box 6
Folder 8
Fern Gayden, Clippings and Ephemera, 1941-1970
Box 6
Folder 9
Fern Gayden, Correspondence, 1957-68
Box 6
Folder 10
Fern Gayden, Events 1941-1971
Box 6
Folder 11
Fern Gayden, Membership Lists, undated
Box 6
Folder 12
Fern Gayden, Notes, undated
Box 6
Folder 13
Fern Gayden, Roll Book, undated
Box 6
Folder 14
Pauline Kigh Reed, Ephemera, 1941-1981
Box 6
Folder 15
Pauline Kigh Reed, Correspondence, 1944, 1977-83
Box 6
Folder 16
Pauline Kigh Reed, Notes, undated
Box 6
Folder 17
Pauline Kigh Reed, Clippings, 1957, 1980-83
Box 7
Folder 1
Ulrich Middledorf, 1941-1968
Box 7
Folder 2
Douglas Williams, Art Instruction Inc. Correspondence, 1954
Box 7
Folder 3
Douglas Williams, Art Coursework, undated
Box 7
Folder 4
Douglas Williams, Sheet Music, undated
Box 7
Folder 5
Douglas Williams, Hyde Park High School Music Programs, 1957-58, undated
Box 7
Folder 6
Douglas Williams, Hyde Park High School Materials, 1956-58
Box 7
Folder 7
Douglas Williams, Mount Pleasant Baptist Church Programs, 1955-59
Box 7
Folder 8
Douglas Williams, Drawing Patterns, undated
Box 7
Folder 9
Douglas Williams, sketches, undated
Box 7
Folder 10
Douglas Williams, Bethel AME Church Program, 1959
Box 7
Folder 11
Douglas Williams, Rhythm and Blues Jazz Scrapbook
Box 7
Folder 12
Douglas Williams, Charles Atlas Newsletter, undated
Box 8
Douglas Williams, Art Instruction Inc. booklets
Box 9
Folder 1
Lawrence Kennon, Board Member correspondence and agendas, 1984-1986
Box 9
Folder 2
Lawrence Kennon, SSCAC Constitution and By-laws, 1957
Box 9
Folder 3
Lawrence Kennon, SSCAC mailings and correspondence, 1981-1983
Box 9
Folder 4
Lawrence Kennon, Membership, 1983
Box 9
Folder 5
Lawrence Kennon, SSCAC files, 1982-1983
Box 9
Folder 6
Lawrence Kennon, Board Development Workshop, 1980-1984
Box 9
Folder 7
Lawrence Kennon, SSCAC files, 1980-1982
Box 9
Folder 8
Lawrence Kennon, Flyers and Correspondence, 1985
Box 9
Folder 9
Lawrence Kennon, SSCAC Constitution, undated
Box 9
Folder 10
Lawrence Kennon, Indiana NCA, 1984
Box 10
Folder 1
Lawrence Kennon, Flyers, serials, clippings, 1970-1990
Box 10
Folder 2
Lawrence Kennon, SSCAC files, 1999
Box 10
Folder 3
Lawrence Kennon, SSCAC files, 1987-1989
Box 10
Folder 4
Lawrence Kennon, Press Releases, 1990-1991
Box 10
Folder 5
Lawrence Kennon, Stationery
Box 10
Folder 6
Lawrence Kennon, SSCAC files, 1988-1990
Box 10
Folder 7
Lawrence Kennon, SSCAC files, 1990-1996
Box 10
Folder 8
Lawrence Kennon, Board of Directors meeting notes, 2001
Box 11
Folder 1
Lawrence Kennon, Inventory--Permanent Collection, 1999
Box 11
Folder 2
Lawrence Kennon, Constitutions, 1985
Box 11
Folder 3
Lawrence Kennon, Auction, 1982-1986
Box 11
Folder 4
Lawrence Kennon, Mailing List / Names, undated
Box 11
Folder 5
Lawrence Kennon, Membership, 1983-1996
Box 11
Folder 6
Lawrence Kennon, Minutes / Reports, 1993-1999
Box 11
Folder 7
Lawrence Kennon, Public Relations, 1983; 1993-1995
Box 11
Folder 8
Lawrence Kennon, Fliers, 1990-1999
Box 11
Folder 9
Lawrence Kennon, Board Meetings, 1995
Box 11
Folder 10
Lawrence Kennon, Art: Literature, definitions, 1989-1995
Box 11
Folder 11
Lawrence Kennon, Board of Directors miscellany, 1989-1990
Box 11
Folder 12
Lawrence Kennon, Board of Directors, 1993-1994
Box 11
Folder 13
Lawrence Kennon, SSCAC Files, 1997
Box 11
Folder 14
Lawrence Kennon, Stationery, 1995
Box 12
Folder 1
Lawrence Kennon, Correspondence, 1996
Box 12
Folder 2
Lawrence Kennon, Handbills, 1996
Box 12
Folder 3
Lawrence Kennon, Art Clippings and Pamphlets, 1980-1990
Box 12
Folder 4
Lawrence Kennon, Artists: Clippings and Info, auction lists, 1990-1996
Box 12
Folder 5
Lawrence Kennon, Art: concepts (clippings), 1990-1995
Box 12
Folder 6
Lawrence Kennon, Artists and Models Ball, 1992-1995
Box 12
Folder 7
Lawrence Kennon, Art History clippings, 1978
Box 12
Folder 8
Lawrence Kennon, Auction 1992-1996
Box 12
Folder 9
Lawrence Kennon, Board of Directors, 1995-1998
Box 12
Folder 10
Lawrence Kennon, Board of Directors, 1986-1991
Box 12
Folder 11
Lawrence Kennon, Diane Carr, 2000
Box 12
Folder 12
Lawrence Kennon, Brochure, 1993
Box 12
Folder 13
Lawrence Kennon, Calendar, 1996-1999
Box 12
Folder 14
Lawrence Kennon, Correspondence, 1996
Box 12
Folder 15
Lawrence Kennon, Financial, 1986, 1994-1997
Box 12
Folder 16
Lawrence Kennon, Fundraising, 1987-1997
Box 12
Folder 17
Lawrence Kennon, Fundraising, 1996
Box 12
Folder 18
Lawrence Kennon, Art Galleries, 1991-1997
Box 12
Folder 19
Lawrence Kennon, Grants, 1986
Box 12
Folder 20
Lawrence Kennon, History, 1990
Box 12
Folder 21
Lawrence Kennon, Art Information--clippings and pamphlets, 1996-1999
Box 12
Folder 22
Lawrence Kennon, Book Collection List, undated
Box 12
Folder 23
Lawrence Kennon, Corporate--SSCAC IRS documents, 1974
Box 12
Folder 24
Lawrence Kennon, Executive Director, 1992
Box 12
Folder 25
Lawrence Kennon, SSCAC Annual Report, 1997
Box 13
Non-SSCAC events, 2000-2008
Box 14
Diane Dinkins-Carr, oversize: miscellaneous serials
Box 15
Douglas Williams, oversize: sheet music and art instruction booklets
Box 16
Diane Dinkins-Carr, photograph of George Thorpe, Peter Pollock, Pauline Kigh Reed, Patrick Prescott, and Eleanor Roosevelt at Art Center Dedication, 1941
Box 16
Diane Dinkins-Carr, photograph of unidentified women, ca. 1940s
Box 16
Diane Dinkins-Carr, photograph of art class, ca. 1940s
Box 16
Diane Dinkins-Carr, photograph of Margaret Burroughs with bust of DuSable, undated
Box 16
Diane Dinkins-Carr, photograph of dance by Clifford J. Burress, ca. 1940
Box 16
Diane Dinkins-Carr, photograph of Pauline Kigh Reed, George Thorpe, and Eleanor Roosevelt at Art Center Dedication, 1941
Box 16
Diane Dinkins-Carr, photograph of Margaret Burroughs by Beverly Swanagan, undated
Box 16
Diane Dinkins-Carr, photograph of Alain Locke, Eleanor Roosevelt, and Patrick Prescott at Art Center Dedication, 1941
Box 16
Diane Dinkins-Carr, photograph of Board Meeting by Illinois Art Project, ca. 1940
Box 16
Diane Dinkins Carr, photograph of Margaret Burroughs, undated
Box 16
Diane Dinkins-Carr, photograph of Diane Dinkins-Carr by Ralph Jenkins, 1978
Box 16
Diane Dinkins-Carr, photograph of Annabel C. Prescott, Katherine Dickerson, Oneida Anderson, Peter Pollock, and Pauline Kigh Reed, ca. 1940
Box 16
Diane Dinkins-Carr, mat for photograph of first exhibit in completed gallery, 1940 (photograph missing)
Box 16
Diane Dinkins-Carr, mat for photograph of art center dedication (photograph missing)
Box 16
Douglas Williams, photograph of the Magnificents
Box 16
Douglas Williams, photograph of the Magnificents
Part III: 1970-2008
Box 17
Administrative: Artists, 1973-2007
Box 18
Administrative: Artists, 1984-2001
Box 19
Administrative: Artists, 1981-2000
Box 20
Administrative: Board of Directors, 1972-75
Box 21
Administrative: Board of Directors, 1976-79
Box 22
Administrative: Board of Directors, 1977-83
Box 23
Administrative: Board of Directors, 1982-84
Box 24
Administrative: Board of Directors, 1983-86
Box 25
Administrative: Board of Directors, 1985-87
Box 26
Administrative: Board of Directors, 1994-2008
Box 27
Administrative: Board of Directors, 1980-1990
Box 28
Administrative: Board of Directors, 1993-2004
Box 29
Administrative: Constitution, 1983-1985
Box 30
Administrative: Employees, 1978-2001
Box 31
Administrative: Employees, 1981-1983
Box 32
Administrative: Employees, 1985-1987
Box 33
Administrative: Executive Director, 1977-1985
Box 34
Administrative: Executive Director, 1981-1988; 1995-1997
Box 35
Administrative: Executive Director, 1980-1986
Box 36
Administrative: Executive Director, 1981-1988
Box 37
Administrative: Executive Director, 1983-1991; 2000-2008
Box 38
Administrative: Executive Director, 1977-86
Box 39
Administrative: Executive Director, 1985-1991
Box 40
Administrative: Executive Director, 1997-2003
Box 41
Administrative: Insurance, 1978-86
Box 42
Administrative: Insurance, 1979-1984; 1998-2004
Box 43
Administrative: Members, 1981-1994
Box 44
Administrative: Members, 1981-1984
Box 45
Administrative: Members, 1983-2000
Box 46
Administrative: Members, 1986-1997
Box 47
Administrative: Members (card file), undated
Box 48
Administrative: Members (card file), undated
Box 49
Administrative: Members (card file), undated
Box 50
Administrative: Physical Plant, 1982-1990
Box 51
Administrative: Physical Plant, 1980-1992
Box 52
Events and Publicity: Auctions, 1974-1994
Box 53
Events and Publicity: Auctions, 1980-2004
Box 54
Events and Publicity: Auctions, 1982-1988
Box 55
Events and Publicity: Auctions, 1984-1998
Box 56
Events and Publicity: Auctions, 1985-2004
Box 57
Events and Publicity: Benefits, 1981-1985
Box 58
Events and Publicity: Benefits, 1981-2002
Box 59
Events and Publicity: Exhibitions, 1976-1986
Box 60
Events and Publicity: Exhibitions, 1990-2002
Box 61
Events and Publicity: Exhibitions, 1973-2002
Box 62
Events and Publicity: Exhibitions, 1981-1991
Box 63
Events and Publicity: Exhibitions, 1974-1989
Box 64
Events and Publicity: Exhibitions, 1985-86
Box 65
Events and Publicity: Exhibitions, 1990-2008
Box 66
Events and Publicity: Other SSCAC Events, 1973-89
Box 67
Events and Publicity: Other SSCAC Events, 1973-86; 1991-2000
Box 68
Events and Publicity: Other SSCAC Events, 1973-2002
Box 69
Events and Publicity: Other SSCAC Events, 1980-1985
Box 70
Events and Publicity: Other SSCAC Events, 1980-1987
Box 110
see also: Oversize Box 110
Box 71
Events and Publicity: Non-SSCAC Events, 1973-1983
Box 72
Events and Publicity: Non-SSCAC Events, 1970-1990
Box 73
Events and Publicity: Non-SSCAC Events, 1975-2002
Box 74
Events and Publicity: Non-SSCAC Events, 1986-2000
Box 75
Financial, 1981-1983
Box 76
Financial, 1981-1985
Box 77
Financial, 1982-1992
Box 78
Financial, 1980-1985
Box 79
Financial, 1981-1984
Box 80
Financial, 1981-1985; 1992-1997
Box 81
Financial, 1980-1988
Box 82
Financial, 1990-2002
Box 83
Fundraising, 1981-1985
Box 84
Fundraising, 1984-1985
Box 85
Fundraising, 1984-1985; 2000
Box 86
Fundraising, 1980-1995
Box 87
Fundraising, 1982-85; 1995; 2005
Box 88
Fundraising, 1983-1987; 1995-1996
Box 89
Programs, 1982-2004
Box 90
Programs, 1982-2006
Box 91
Programs: CASP, 1952-1987
Box 92
Programs: CASP, 1949-1981
Box 93
Programs: CASP, 1951
Box 94
Programs: CASP, undated
Box 95
Programs: CASP, 1951
Box 96
Programs: CETA, 1975-1977
Box 97
Programs: CETA, 1979
Box 98
Programs: CETA, 1979-1984
Box 99
Programs: MSYEP, 1983-1984
Box 100
Programs: MSYEP, 1980-1981
Box 101
Programs: MSYEP, 1982-1983
Box 102
Programs: MSYEP, 1980-1985
Box 103
Programs: RAW Magazine, 2005-2006
Box 104
Programs: RAW Magazine, 2005-2006
Box 105
Research, 1981-2000
Box 106
Research, 1979-1983
Box 108
Oversize: Plaques, 1972-1981
Box 109
Oversize: Plaques, 1972; 1978
Box 110
Oversize: Events and Publicity, 1979-2008
Box 111
Oversize: Student Materials, Serials
Box 112
Photographs, 1938-1969
Box 113
Photographs, 1970-1979
Box 114
Photographs, 1970-1979
Box 115
Photographs, 1980-1989
Box 116
Photographs, 1990-2008
Box 117
Photographs, 1970-2000
Box 118
Photographs, Artwork
Box 119
Photographs, undated
Box 120
Photographs, undated
Box 121
Photographs, undated
Box 122
Photographs, undated
Box 123
Unidentified negatives
Box 124
Oversize photographs