Joseph Rollins, Sr. and Charlemae Rollins Collection Artifacts
Finding Aid: Joseph Rollins, Sr. and Charlemae Rollins Collection Artifacts
Repository: The DuSable Museum of African American History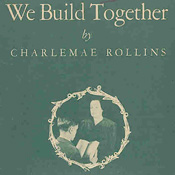 Joseph and Charlemae Rollins CollectionCharlemae Hill Rollins and Joseph Walter Rollins, Sr. were a prominent couple in Chicago's African American community from the 1920s through the 1970s. While Charlemae Rollins is more well-known nationally, Joseph Rollins held a high civic profile through his veterans' activities, and he was frequently noted in society columns in Jet and the Chicago Defender.
A librarian, educator, writer, and master storyteller, Charlemae Hill Rollins is chiefly remembered as the children's librarian at the George Cleveland Hall Branch of the Chicago Public Library, where she worked closely with Vivian G. Harsh. Rollins also befriended Federal Writers' Project writers working at the Hall Branch, including Langston Hughes, and was an early mentor to Margaret Burroughs, founder of the DuSable Museum, and the poet Gwendolyn Brooks, whose poem honoring Rollins's retirement in 1963 reads in part:
Rhymed reverence, For such excellence, Is microscopic treasure. Nothing is enough For one who gave us love— Who gave us clarity— Who gave us sentience— Who gave us definition— Who gave us her vision.
While pursuing graduate study at the University of Chicago, Charlemae Rollins wrote a research paper on representations of African Americans in children's literature and their impact on children, which would eventually be published as the pamphlet The Negro in Children's Books. This publication began the crusade for which Rollins would achieve national recognition. Working to have children's books depicting racist stereotypes removed from library purchasing lists, in 1941 she published another influential pamphlet, We Build Together, which outlined criteria for the selection of literature relating to African Americans and included an annotated bibliography, one of the first of its kind. The copy of the first edition of We Build Together in the DuSable Museum's Rollins collection (shown here) includes emendations for the second edition in Charlemae Rollins's hand.
A separate collection of Charlemae Rollins's papers and Charlemae Rollins's personal library were donated to the Chicago Public Library, Carter G. Woodson Regional Library, Vivian G. Harsh Research Collection of Afro-American History and Literature, another Mapping the Stacks repository.
Gwendolyn Brooks's poem "For Charlemae Rollins" is from an unpublished manuscript in the Joseph Rollins, Sr. and Charlemae Rollins Collection, Collection of the DuSable Museum of African American History.
Selected Artifacts