George Cleveland Hall Branch Archives
Finding Aid: George Cleveland Hall Branch Archives
Repository: Chicago Public Library, Carter G. Woodson Regional Library, Vivian G. Harsh Research Collection of Afro-American History and Literature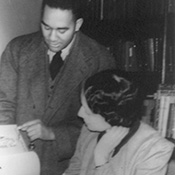 Walter Henri Dyett PapersThe George Cleveland Hall Branch Library opened in January 1932 and quickly became a community institution and foci for the Chicago Black Renaissance. The library was named in honor of Dr. George Cleveland Hall, a noted physician and an original member of the Association for the Study of the Negro Life and History (ASNLH), who campaigned tirelessly for a full service library in Bronzeville, the heart of Chicago's African American neighborhood.
Vivian G. Harsh served as head librarian from opening day to her retirement in November 1958. She was the first African American branch head in the Chicago Public Library and an early leader in the movement to preserve and promote African American history and culture. As head librarian, Harsh worked diligently to establish the Special Negro Collection, an extraordinary collection of books, pamphlets, newspaper and periodical clipping files, and photographs on the African American experience, and launched many programs designed to disseminate this information to library patrons such as the Book Review and Lecture Forum, Negro History Week, and Du Sable History Club events. These programs were patronized by major players of the Chicago Black Renaissance including Richard Wright, Gwendolyn Brooks, Arna Bontemps, and Langston Hughes, and by the general public.
The George Cleveland Hall Branch Library Archives at the Chicago Public Library, Carter G. Woodson Regional Library, Vivian G. Harsh Research Collection of Afro-American History and Literature consists of administrative files, institutional histories and statements, programs, newspaper and clipping files, pamphlets, and over 300 photographs donated by library staff and patrons. The Special Negro Collection, referred to as the George Cleveland Hall Branch Vertical Files in the finding aid, comprises a significant portion of this collection.
Selected Artifacts