Richard Durham Papers
Finding Aid: Richard Durham Papers
Repository: Chicago Public Library, Carter G. Woodson Regional Library, Vivian G. Harsh Research Collection of Afro-American History and Literature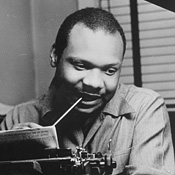 Richard Durham is best remembered as the creator of Destination Freedom, a groundbreaking radio series that dramatized the struggle for civil rights in America. Destination Freedom aired on WMAQ, a Chicago radio station, on Sunday mornings from 1948 to 1950. Durham received radio script-writing training while employed by the Federal Writers' Project of the Work Projects Administration in the late 1930s and early 1940s. His prolific writing career spanned four decades and extended far beyond radio: Durham edited the official publication of the Nation of Islam, Muhammad Speaks, in the 1960s; he created the television series Bird of the Iron Feather in the early 1970s; he co-authored The Greatest, the autobiography of boxing champion Muhammad Ali, which was published in 1977; and he wrote numerous speeches for Chicago's first African American mayor, Harold Washington, in the 1980s.
The Richard Durham Collection at the Chicago Public Library, Carter G. Woodson Regional Library, Vivian G. Harsh Research Collection of Afro-American History and Literature comprises mostly manuscripts and primarily includes scripts written for Destination Freedom and Bird of the Iron Feather.
In March 2005, Clarice Durham donated the ninety-one audiotapes to the Museum of Broadcast Communications. Portions of this collection are available on the online archives section of the Museum of Broadcast Communications website (http://www.museum.tv/) and the complete collection is available for listening at the Museum of Broadcast Communications, located at 400 North State Street, Suite 240, Chicago.
Selected Artifacts