Ben Burns Papers
Finding Aid: Ben Burns Papers
Repository: Chicago Public Library, Carter G. Woodson Regional Library, Vivian G. Harsh Research Collection of Afro-American History and Literature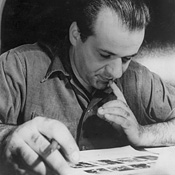 The Ben Burns PapersBen Burns had a long and distinguished career as "a white editor in black journalism." After befriending John H. Johnson in the early 1940s, he helped found Ebony and a number of other black publications, and he trained many black writers in all aspects of print journalism. When he had been working for black publications for thirty-five years, Burns referred to himself as "a black newspaperman, black in my orientation and thinking, in my concerns and outlook, in my friends and associations, black in everything but my skin color." Burns summarized the influence that his experiences at black publications had on him: "I am a white man who has been passing for Negro for thirty-five years."
Burns was the national editor of the Chicago Defender from 1941-1945, the editor of Negro Digest from 1942-1954, and the executive editor of Ebony from 1945-1954, Jet from 1950-1954, Sepia from 1955-1958, and Guns magazine from 1956-1958. After a brief departure from journalism, he returned as the editor of the Chicago Daily Defender from 1966-1967 and the editor of Sepia from 1968-1977.
In addition to extensive correspondence and subject research files, the Ben Burns Collection at the Chicago Public Library, Carter G. Woodson Regional Library, Vivian G. Harsh Research Collection of Afro-American History and Literature includes over 400 photographs recording such events as Esther and Ben Burns' trips to Haiti in 1948 and to Europe in 1950 with John and Eunice Johnson. The couples hired distinguished photographer Gordon Parks to accompany them and to document their trip to Haiti.
Mapping the Stacks staff have also processed the family papers of Defender publishers Robert Abbott and John Sengstacke and a photograph collection of the Defender.
Selected Artifacts