Abbott-Sengstacke Family Papers
Finding Aid: Abbott-Sengstacke Family Papers
Repository: Chicago Public Library, Carter G. Woodson Regional Library, Vivian G. Harsh Research Collection of Afro-American History and Literature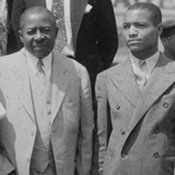 Robert S. Abbott and John Herman Henry SengstackeThe papers of Robert S. Abbott, John H. Sengstacke, and Myrtle E. Sengstacke tell the story not only of one of the most significant African-American papers and publishing companies of the twentieth century, but also of a rich family history. Robert Abbott was born in 1868 in Georgia and raised by his mother Flora Abbott and stepfather John H.H. Sengstacke, the son of a German sea captain and freed slave woman. After his graduation from the Hampton Institute, Abbott entered the newspaper business in 1905, selling a four-page sheet version of Chicago Defender door to door. Though based in Chicago, the Defender was distributed nationwide, with its largest readership in southern states, whom it encouraged to leave for better work and life in northern cities. Abbott's nephew John Herman Henry Sengstacke began working at the Defender in 1934 and following Abbott's death in 1940, became publisher of the paper and the Robert S. Abbott Publishing Company. Among Sengstacke's accomplishments was the creation of the National Newspaper Publishers Association (NNPA), which was the first national organization of black publishers, and his role in desegregating the armed forces. He also introduced the Chicago Daily Defender, the first Black daily newspaper. His wife, Myrtle Sengstacke, was born to a New Orleans creole family and was involved in a number of Chicago charities and organizations throughout her life.
The Abbott-Sengstacke Family Papers at the Harsh Collection number 251 containers, which includes not only manuscript material—including correspondence, Defender records, and family papers—but also approximately 4,000 photographs and over one hundred films that span John H. Sengstacke's personal and professional life. Robert A. Sengstacke donated the material to the Harsh Collection in 2007.
Mapping the Stacks staff have also processed the Chicago Defender Photograph Collection and the papers of Defender editor Ben Burns.
Selected Artifacts