Reverend Addie Wyatt Papers
Finding Aid: Reverend Addie Wyatt Papers
Repository: Chicago Public Library, Carter G. Woodson Regional Library, Vivian G. Harsh Research Collection of Afro-American History and Literature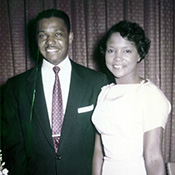 Reverend Addie Wyatt PapersThe papers of Rev. Addie Wyatt and Rev. Claude Wyatt document important aspects of African American life in Chicago and the course of mid-twentieth century movements for racial, gender, economic and political justice. The couple met at DuSable High School in the late 1930s and were married in 1940. The Wyatts struggled as a young couple to make ends meet while taking care of their two young boys and Addie Wyatt's five younger siblings whom the couple took in after the death of Wyatt's mother. Addie Wyatt eventually found steady employment in Chicago's meatpacking district and joined the United Packinghouse Workers of America union (later Amalgamated Meat Cutters and Butcher Workmen, then United Food and Commercial Workers) where she would embark upon a forty year career in the organized labor movement as one of its most outspoken proponents for social justice and the rights of working people, women and people of color.
Rev. Addie Wyatt was a founder of the Coalition of Black Trade Unionists and the Coalition of Labor Union Women as well as numerous other labor, black, women's and religious organizations, some of which her husband, Rev. Claude Wyatt also participated in. Rev. Claude Wyatt Jr., worked for the United States Postal Service for nearly twenty years before retiring to assume full-time, the pastorate of the Vernon Park Church of God which he and Rev. Addie Wyatt founded in 1955 and led as co-pastors for over forty years. Though their decades of activism and leadership on behalf of civil rights and black political empowerment in the city of Chicago and beyond, the Wyatts made a lasting local and national impact.
The Rev. Addie Wyatt and Rev. Claude Wyatt Papers at the Chicago Public Library, Carter G. Woodson Regional Library, Vivian G. Harsh Research Collection of Afro-American History and Literature consist of 345 containers of rich organizational records, manuscripts, audiovisual material, sermon texts and the institutional records of the Vernon Park Church of God. Rev. Addie Wyatt donated the papers to the Harsh Collection in 2007.
Selected Artifacts