Heritage Press Archives
Finding Aid: Heritage Press Archives
Repository: Chicago Public Library, Carter G. Woodson Regional Library, Vivian G. Harsh Research Collection of Afro-American History and Literature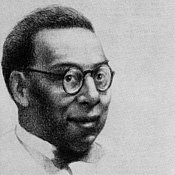 Award-winning poet Robert Hayden, published The Night-Blooming Cereus in 1972, in honor of Heritage Press's ten-year anniversary. This was a fitting marker of the occasion, as Hayden's A Ballad of Remembrance, published in 1962, had been the press's very first release. In 1966, that book had won Hayden the Grand Prize for Poetry at the first World Festival of Negro Arts, an affirmation both of Hayden's career and of Heritage Press as one of the most important publishers of black poetry of its time.
Heritage Press was founded by Paul Breman, a Dutch antiquarian book trade specialist. Three years after a move to London in 1959, Breman's admiration for Robert Hayden's burgeoning poetry prompted him to begin publishing a series of books written by new black poets, a series that eventually ran to twenty-seven volumes over twelve years. Best known for virtually launching the careers of Robert Hayden, Audre Lorde, Ray Durem, Dolores Kendrick and Ebele Oseye (then Ellease Southerland), the press also published major works of poetry by Arna Bontemps, Waring Cuney, Owen Dodson, and Ishmael Reed. In addition, the press published many prominent members of the Black Arts Movement—including Conrad Kent Rivers, Dudley Randall, Lloyd Addison, Ronald L. Fair and Russell Atkins—as well as several poets who remain largely unknown today.
Throughout the series' thirteen-year run, Breman intended it to provide an outlet both for interesting young poets and established authors whose poetry had never appeared in book form. The press's holdings are thus generally limited to either early or retrospective moments in its authors' careers. Featured in the collection are the manuscripts and correspondence of Robert Hayden, Dolores Kendrick, Audre Lorde, Arna Bontemps, Fenton Johnson and Dudley Randall, as well as a private correspondence with W. E. B. and Shirley Du Bois. The collection also contains original manuscripts of almost all of the books published by the series. These manuscripts are often accompanied by Breman's own comments, additional poems that were cut from the published volumes, and a well-kept correspondence that documents each volume's development. The collection also includes Breman's working file on the anthology of black poetry entitled You Better Believe It, which he compiled for Penguin Books in 1973.
Selected Artifacts