Walter Henri Dyett Papers
Finding Aid: Walter Henri Dyett Papers
Repository: Chicago Public Library, Carter G. Woodson Regional Library, Vivian G. Harsh Research Collection of Afro-American History and Literature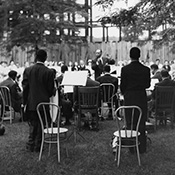 Walter Henri Dyett PapersWalter Henri Dyett, known as "Captain Dyett" to his many students and admirers, was a band instructor, music educator, and influential figure in fostering the development of jazz and black music in Chicago. Born in 1901 in Missouri, Dyett would eventually settle in Chicago in the 1920s. At Wendell Phillips and later the DuSable High School, Dyett worked as a band instructor and music educator, organizing the annual "Hi-Jinks" revue and teaching an astonishing number of accomplished and well known performers, including Nat "King" Cole, Dorothy Donegan, Johnny Griffin, Von Freeman, and Joseph Jarman. In addition to his work as an educator, Dyett was a major figure in promoting the work of professional and high school musicians, from his annual concert series to his involvement with musicians' local 10-208, and his service with the Eighth Regiment Infantry Band.
The Walter Dyett Papers include family history material, programs from his time at DuSable High School, and around 500 photographs documenting band performances, family outings, and vacations from the 1920s to the 1950s. Other highlights of the collection include his masters thesis, "Development of Rhythm Mastery," family material related to his father's immigration from the West Indies and employment with the African Methodist Episcopal (AME) Church, and "Hi-Jinks" concert programs.
Materials about Dyett can also be found in the papers of Charles Walton and Charles Stone.
Selected Artifacts