Etta Moten Barnett Papers
Finding Aid: Etta Moten Barnett Papers
Repository: Chicago Public Library, Carter G. Woodson Regional Library, Vivian G. Harsh Research Collection of Afro-American History and Literature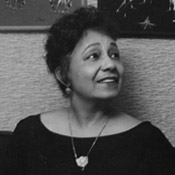 Etta Moten Barnett PapersHailed as "The New Negro Woman" – an early twentieth century term used to describe African American women who fought for the liberation of the race in particular and the human race in general – in 1933 for her groundbreaking performance on the Hollywood screen, Etta Moten Barnett was an extraordinarily talented entertainer and devoted civic activist. As an accomplished singer and actress, she starred as Bess in George Gershwin's Porgy and Bess – a performance which brought her and the opera critical and commercial acclaim – and appeared as a Brazilian singer performing the Oscar-nominated song, "The Caricoa" in Flying Down to Rio. She also graced the professional stage in the Fast and Furious, an all-black musical revue written by Zora Neale Hurston, Zombie, Sugar Hill, and Lysistrata; hosted her own radio shows "Etta Moten Sings," "Etta Moten – with Music and Conversation," and "I Remember When"; and performed with the Duke Ellington Orchestra, the New York Philharmonic, and the Chicago Symphony.
Barnet was also actively involved with civic affairs such as the African American Institute, the Chicago Council on Foreign Relations, the Chicago Lyric Opera, the DuSable Museum, the Field Museum, the South Side Community Arts Center, the National Association for the Advancement of Colored People, the National Conference of Christians and Jews, and the National Council for Community Service to International Visitors. She was devoted to women's issues as a member of Alpha Kappa Alpha sorority, The Links, Inc., the National Council of Negro Women, the Women's Board of the University of Chicago, the Women's Board of the Chicago Urban League, and a participant in the International Women's Year and United Nations Decade for Women World Conference activities and events throughout the 1970s and 1980s.
Along with her husband, Claude Barnett – the founder and director of the Associated Negro Press – Etta supported African independence and progress. They traveled many times to Africa, often as part of official United States delegations to independence ceremonies and presidential inaugurations for Ghana, Nigeria, Zambia, and Lusaka.
The Etta Moten Barnett Papers at the Chicago Public Library, Carter G. Woodson Regional Library, Vivian G. Harsh Research Collection of Afro-American History and Literature include extensive correspondence, manuscripts, organization and subject files, programs, and newspaper clippings, as well as nearly 200 photographs that reflect Barnett's career as a singer, actress, civic activist, and humanitarian.
Selected Artifacts